FY 2008 Annual Report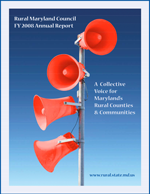 A Collective Voice For Rural Maryland
Rural Maryland communities often appear to be pleasant, sparsely populated areas dotting idyllic landscapes of farms and forests. The reality, however, is that many rural communities face serious challenges from difficult economic conditions to inadequate access to quality healthcare to a deteriorating physical infrastructure. The Rural Maryland Council works to bring rural leaders together to identify specific challenges and craft solutions that work.